I'm convinced they get paid in drink tickets, Ed Hardy T-Shirts, and quite possibly, girls who wear gem encrusted T-Shirts from Bebe.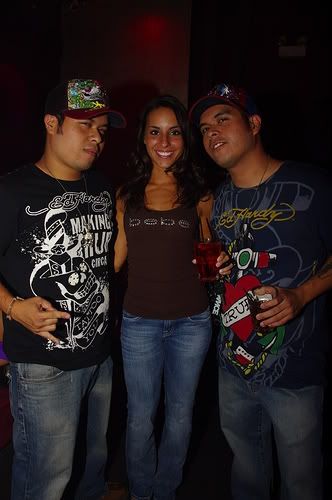 I don't understand why they promote nightclubs in Chicago when they can be working for their hero, Christian Audigier, in Vegas.
That's right. Maybe I've been sleeping under a rock, or just don't care, but I just found out there is a Ed Hardy nightclub at The Treasure Island Hotel in Vegas. And from looking at the photos, there seems to be a lot of horse leg action going down there.
Bonus photo of the "Fashionable Nightlife" DJ:
So now all the Ed Hardy-wearing, power tool douchebags finally have a place they can call home. Do you think they turn away guys wearing Affliction T-Shirts?
I predict the club closes down in about 6 months.
top photo from Robert Ayers II
everything else from The Christian Audigier Ed Hardy Fashionable Nightlife Nightclub